Click to enlarge photos on page.
Freddie Edwards was born in Tulsa, OK and raised in Southeastern Oklahoma near the small town of Cameron. Singing and songwriting has been a part of Freddie's heritage for many generations. His grandma Jannie and father Jackie were songwriters. Jackie recalled his mother was always singing around the house or in the cotton fields and writing songs as she worked. Freddie remembers well when his mom and dad would take him to many gospel singings as a child and was influenced by such groups as The Blackwood Brothers, Statesmen Quartet and The Speer Family. He gives much credit to his family for the Legacy that was given to him.

Freddie has had many songs published in gospel singing convention books over the past several years.  A few groups as The Florida Boys, Anchormen, Living Sacrifice, and The Pensacola Christian College have recorded his songs. Freddie gives much credits to such writers as Harold Lane, Charles Novell, Dave Clark, Eugene McCammon, and Sue Smith(writeaboutjesus) with whom he has studied in the past. Freddie says: "I'm very grateful for the ability that God has given me and want to perfect the art and craft of songwriting."

Freddie teaches elementary music and also teaches at The Stamps-Baxter School of Gospel Music. He writes mostly Southern Gospel songs that are uplifting with a positive message of the hope we have in Jesus Christ. He hopes the songs will be an encouragement and blessing to the Christian and direct the lost to the Savior's cross. John 3:16, Romans 10:9&10.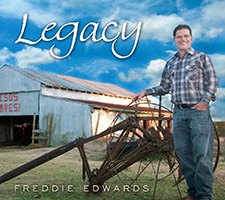 Legacy CD: Freddie started working on this CD after his dear dad Jackie passed away in 2013. It was almost a year in the making and was completed in 2015. It is done in honor and memory of Jackie Edwards and was produced in Nashville, TN by Tommy Cooper and some of the top musicians which include: Gary Prim, Tim Parton, Tracey Phillips, Tommy Harden, Duncan Mullins, Scott Sanders, Mike Douchette, Kelly Back and Glen Duncan. The back – ground vocals were done by the amazing singers: Reggie and Ladye Love Smith. Freddie's Brother Jonathan and sisters Rhoda, Rhonda and Rebekah, Brother-in-law Steve and nephew Jaxon join him on two of Jackie's songs: "Everybody Said Amen" & "Soon We'll See Him". His granddaughter Brooklyn joins in on: "Best Friends Forever".  Freddie's son Kevin wrote and sings the song: "I Want to Pray Like Grandpa Prayed".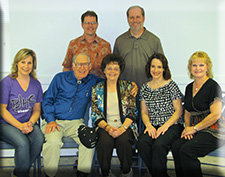 Freddie's Family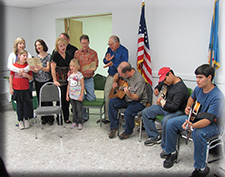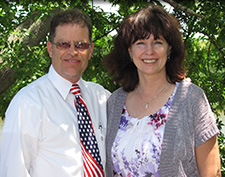 Freddie and His Wife Trudy

He included three songs that he did not write on this CD.  "I'll Live in Glory" by J.M. Henson c1936 from the Church Hymnal. Freddie recalls: "On Mom's birthday party (5 days before dad passed away) we were singing several songs and when we came to this one dad brightened-up and sang out strong! Dad knew it would not be long and he would "Live in Glory"!
    
Jackie was born Aug. 10, 1936 in a log cabin in Rock Island, Oklahoma, where the Brumley's used to live. Freddie included an Albert E. Brumley sentimental song about going back to the old home place: "Did You Ever Go Sailin'".
    
At the doctor's office 20 days before going to heaven, Jackie was asked if he would sing another song for the doctor. Without hesitation he started singing: "Until Then" by Stuart Hamblen. Freddie was there and never will forget that day!  Jackie knew the Lord Jesus Christ and would sing and give God praise until he was taken away. What a Legacy to Leave!
   
That was one reason for Freddie writing the song: "Legacy of Love". The first verse is about a Godly man leaving a legacy and the second verse is about the legacy the Jesus left us in the sweet song of redemption!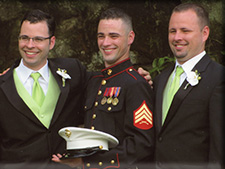 Freddie's Sons
Kevin, Eric & Timothy
Celebrate Life CD: Strong songs on "Celebrate Life" are "Going to Grandma's House", which is a true story about his grandma Jannie Edwards and her legacy.  "The Flag Still Flies Here At Home" is a deep stiring patriotic song. The first verse is about his son Eric (U.S. Marine ) and the 2rd verse is about all our soliders.  His family has always been very patriotic and pray that America will return to honor God and the Christian Heritage of our nation. His grandson, Brenden (8 years old in 2009) sings on: "Stop, Look, Listen & Live". "He'll Be There" is a song of hope for the believer who is going through tough times in their lives. There are 14 songs on the Celebrate Life CD.

On the music page check out Freddie's 2 latest CD's "Legacy" and "Celebrate Life"